Coffee is a beverage that is enjoyed by many people all over the world. It has a long history which originates from Ethiopia where to date traditional coffee ceremonies are still a big part of the culture with women being a key part of the roasting and serving process. Coffee is seen as a community activity in East Africa too, with a wide variety of flavours that are influenced or come to be by the places in which it is grown.
While you may be familiar with coffee from Southeast Asia or Latin America, African coffee frequently remains an undiscovered treasure. This guide explores the diverse and exquisite coffee offerings from the African continent, a region that has played a significant role in the global coffee industry for centuries.
It features ten African coffee brands personally recommended by Jodie Alicia Williams, a discerning coffee aficionado known for her discerning palate and passion for exploring unique experiences. Whether you're a seasoned coffee lover or a curious beginner, this guide will expand your taste buds and expand your coffee repertoire in new ways.
---
First on the list we have:
Kula Project/ Kula Coffee - Atlanta/Rwanda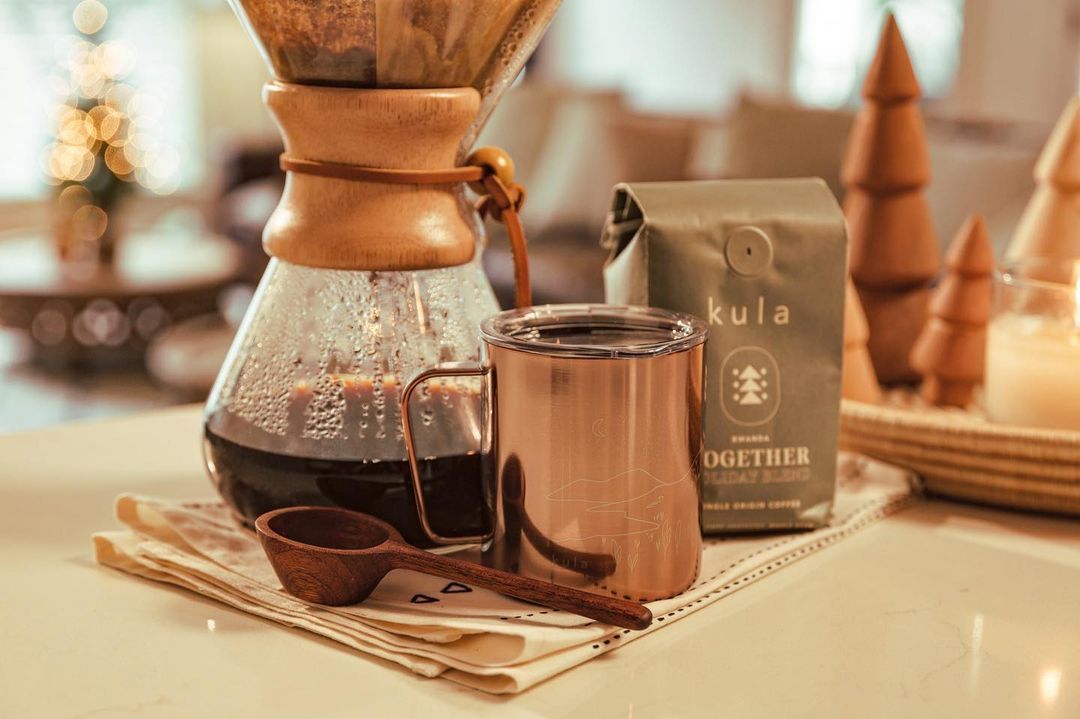 Kula Coffee is a coffee company that connects Atlanta entrepreneurs with Rwandan coffee farmers, focusing on women entrepreneurs. It is a unique blend of high-quality, attention-to-detail coffee sourced from the slopes of Mount Karisimbi in Rwanda. The Kula Project was co-founded by Sarah Buchanan-Sasson on May 12, 2012, although it all started in 2009 when Sarah travelled to East Africa.
The company is committed to creating a more equitable and sustainable coffee industry, empowering women entrepreneurs in Rwanda. Kula Coffee's unique features include using business as a force for good, working directly with Rwandan farmers, and selling Rwandan products. The beans are roasted to a medium-dark roast, resulting in a complex flavour profile of fruity, sweet, and chocolatey notes. The coffee is brewed using a pour-over method, ensuring consistent and flavourful coffee.
A bright airy coffee shop located just outside Atlanta in Buckhead, its inside is an office block so it's a great spot to get some work done. The project itself focuses on empowering women through entrepreneurship, something I connect with deeply along with the founder Sarah who is incredibly passionate about Kula and what they do! ~ Jodie's comment on Kula Coffee
Spring Valley Coffee - Nairobi, Kenya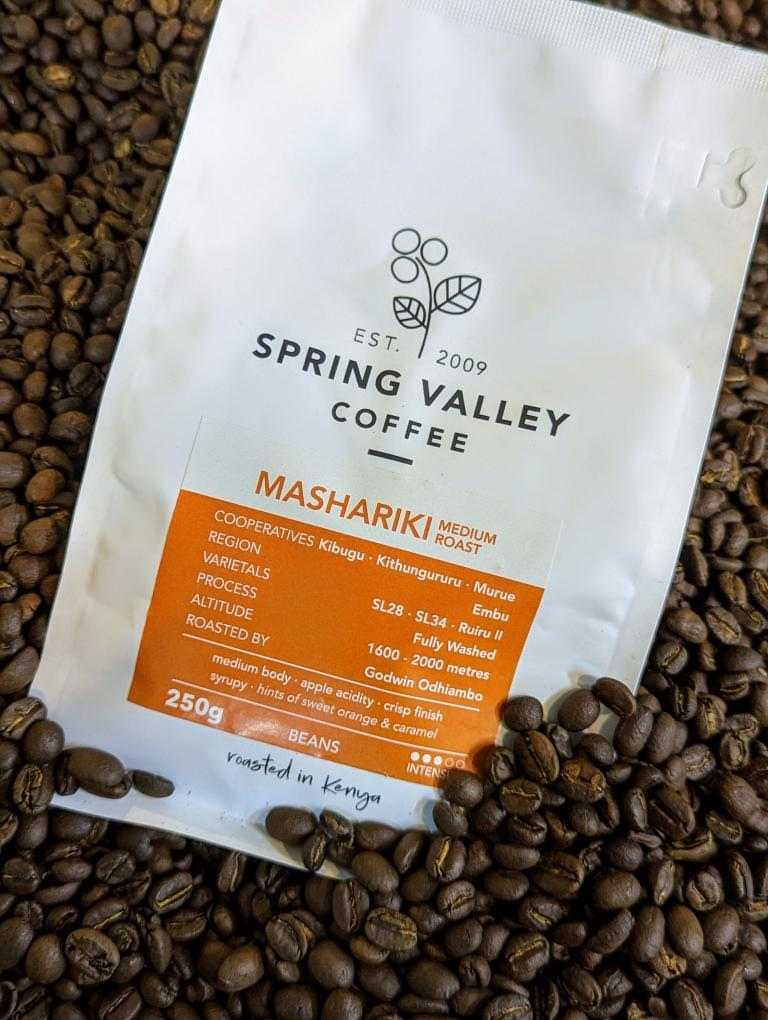 Spring Valley Coffee, a Kenyan coffee roaster and retailer, is one of the oldest in the country. Established in 2009, they source coffee beans from small-scale farmers and roast them on-site in their roastery in Nairobi. They offer a variety of single-origin, blends, and flavoured coffees, known for their fruity, sweet, and smooth flavours. Popular coffees include Zamanee, Elgon, Peaberry+, and Mashariki. They also have ten cafes in Nairobi with a relaxed atmosphere and friendly service. Customers praise their coffee for its freshness, variety, and friendly staff.
A staple in Kenyan speciality coffee, they have multiple locations across Nairobi and roast their beans onsite. ~ Jodie.
CxffeeBlack / Anti Gentrification Coffee Club- Memphis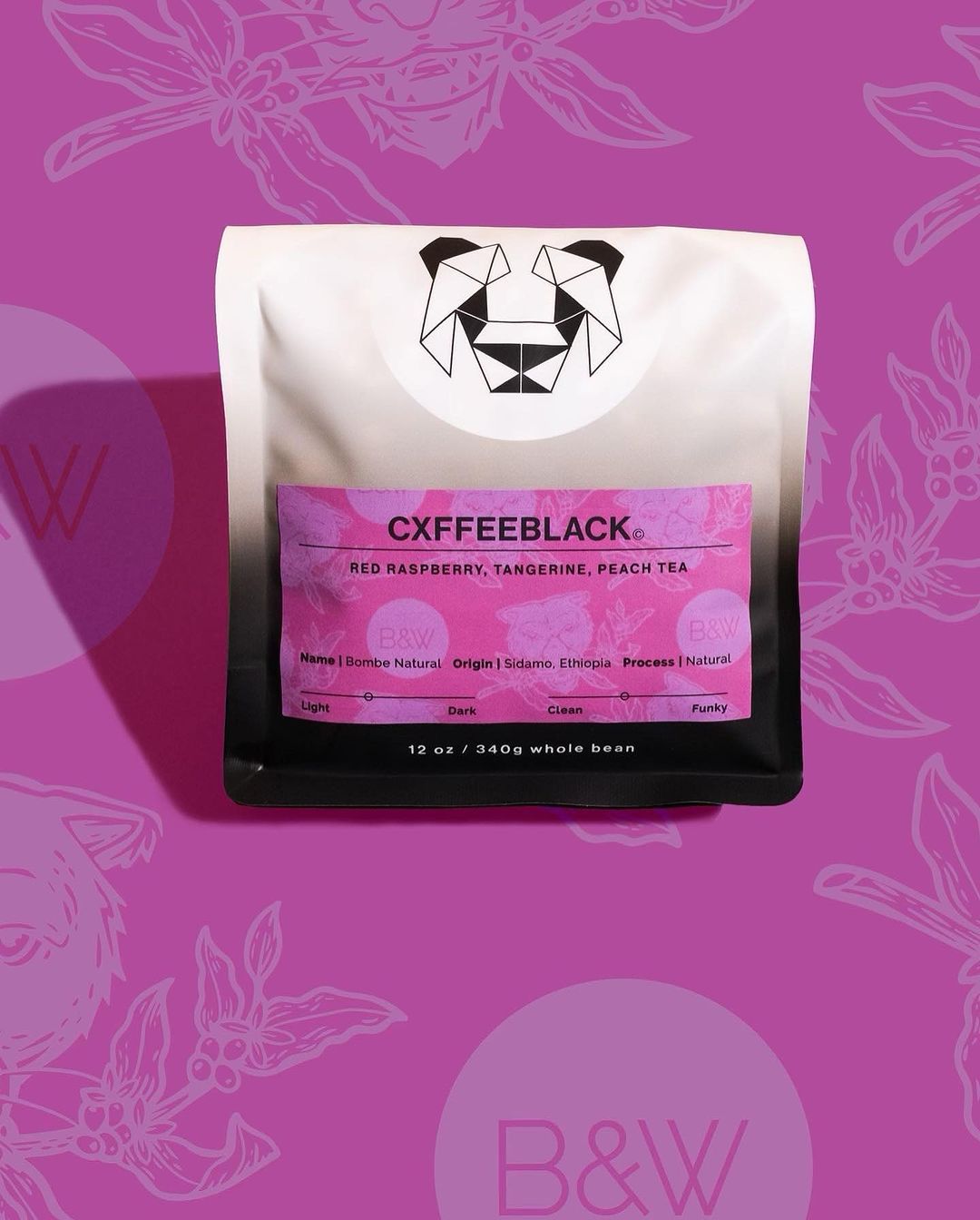 CxffeeBlack is a Memphis-based coffee company whose goal is to promote appreciation for coffee and the culture of black people. Cxffee black is keen to create an all-black supply chain and they're focused on a pan-African approach. They roast their coffee in small batches using high-quality Arabica beans and are Fair Trade certified.
The coffee is described as smooth, rich, and flavorful, with hints of chocolate, caramel, and nuts. Reviews of CxffeeBlack coffee are positive, with customers praising the rich, complex flavour and the support for black businesses. Customers can order CxffeeBlack coffee online or find it at select retailers.
Bart and Renata are some of my favourite people in coffee! They are passionate about connecting the diaspora and creating a community around a coffee experience. If you're ever in Memphis make sure to visit their shop and make sure you give yourself some time, you'll wanna hang around! ~ Jodie.
Itadi - Togo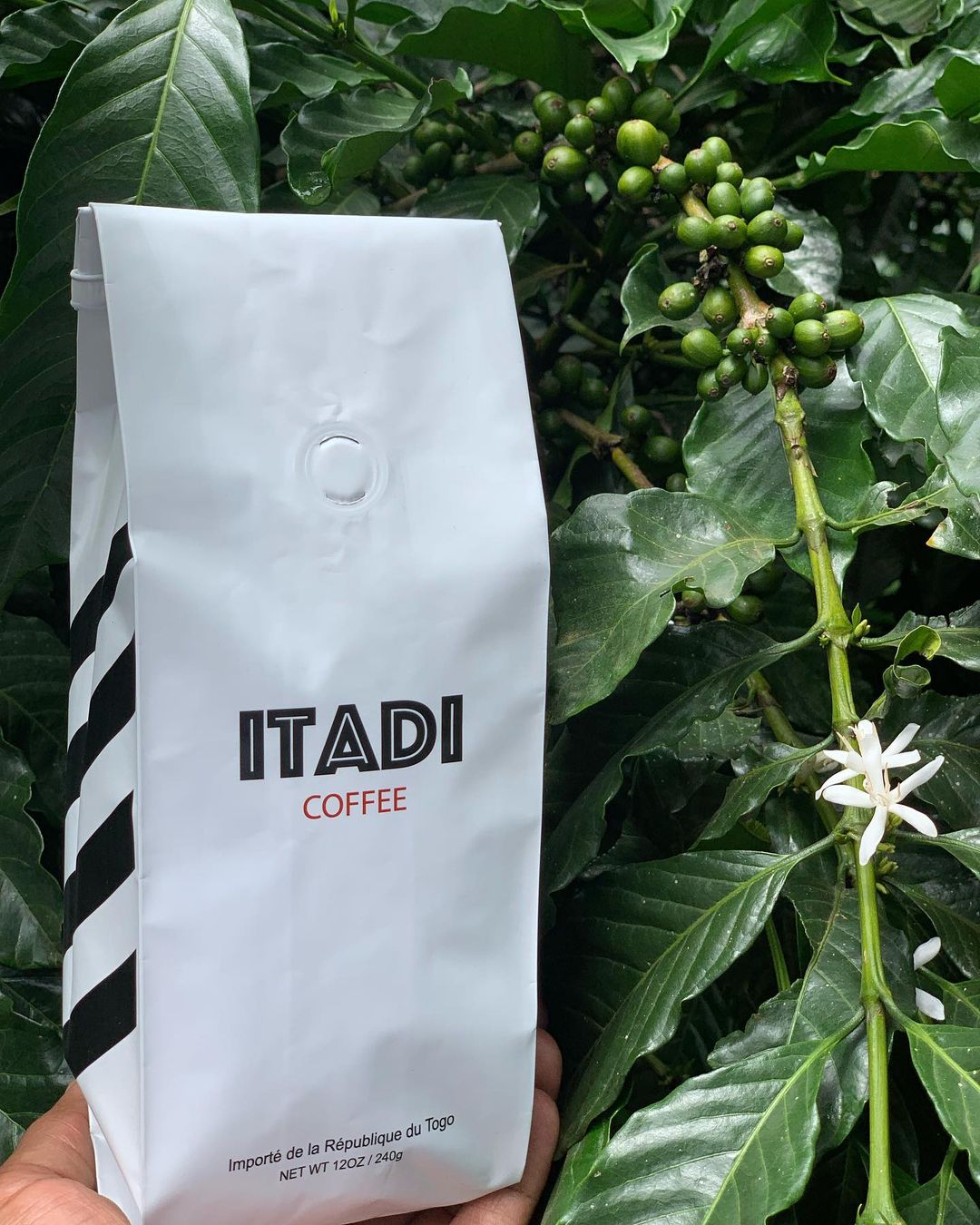 Itadi Coffee was founded by Tabi Bonney, a Washington D.C. and Los Angeles-based artist, director, and producer. Itadi Coffee is a single-origin, fair trade, speciality coffee from the Bonney family farm in Togo, West Africa. The coffee is grown using sustainable practices and hand-selected by farmers. Itadi Coffee is available in whole bean and ground coffee and can be brewed using various methods. Itadi Coffee has a rich, full-bodied flavour with notes of chocolate, caramel, and spice, making it suitable for both espresso and drip coffee. The brand is committed to social responsibility, donating a portion of its proceeds to support farmers and communities in Togo. Reviews of Itadi Coffee praise its rich, complex flavour, dark roast coffee, and smooth flavour.
I love the lifestyle approach to this brand, it feels welcoming and allows people who aren't necessarily coffee drinkers to connect with coffee uniquely. ~ Jodie.
Kahawa 1893- Kenya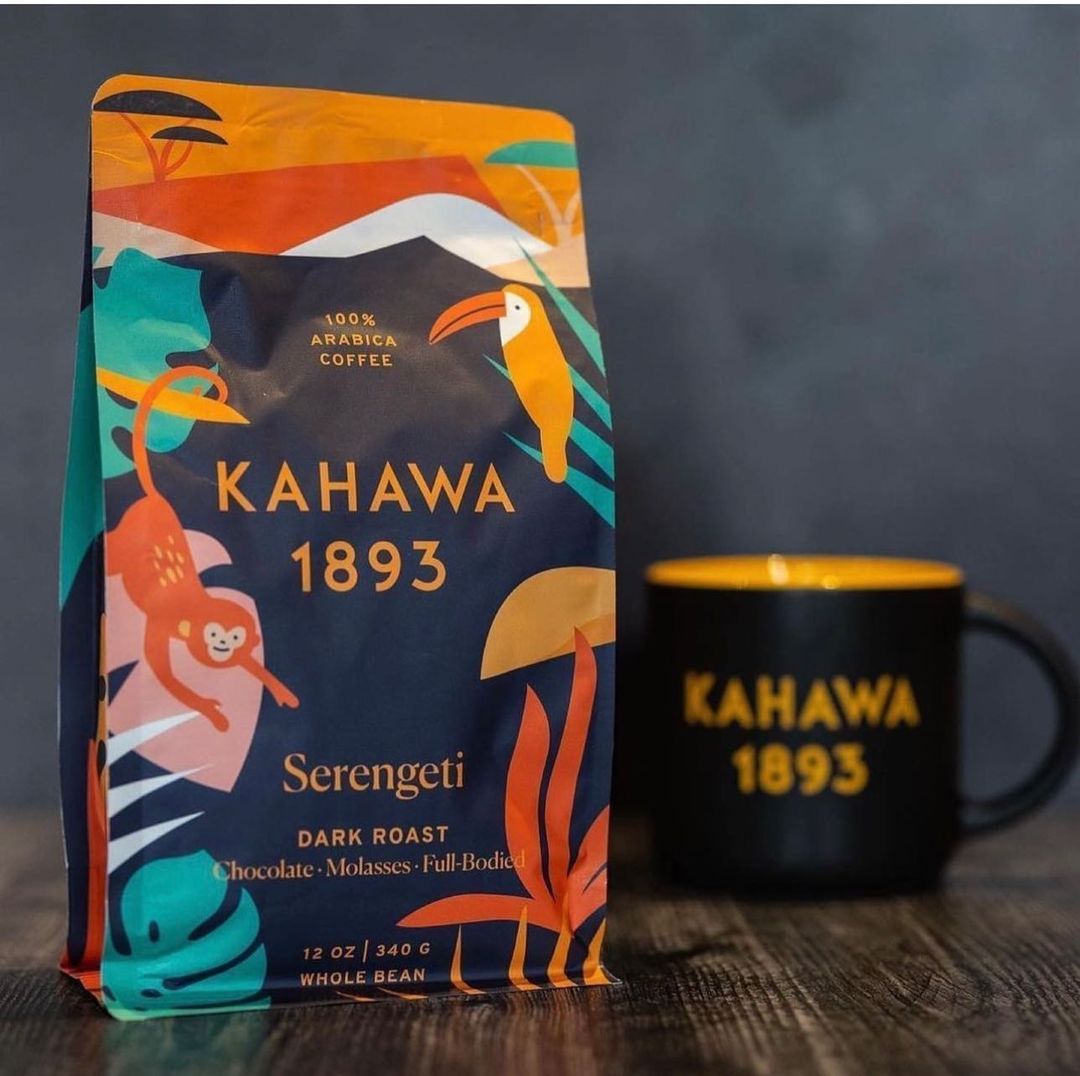 Kahawa 1893, the Kenyan special company founded by third-generation farmer Margaret Nyamumbo. They source their beans from women farmers in Kenya and roast them in small batches for freshness and quality. Their Kenyan Single Origin coffee is made from 100% Arabica beans grown in Kenya's highlands, known for its bright, fruity acidity and full-bodied flavour. The coffee is roasted to a medium roast, bringing out the sweetness without making it too bitter. Kahawa 1893 partners with the Sustainable Trade Initiative to ensure fair pricing for its farmers and offers a digital tipping system for customer support.
Women-owned, women-focused! A big win in my book! ~ Jodie.
Boon Boona Coffee - Seattle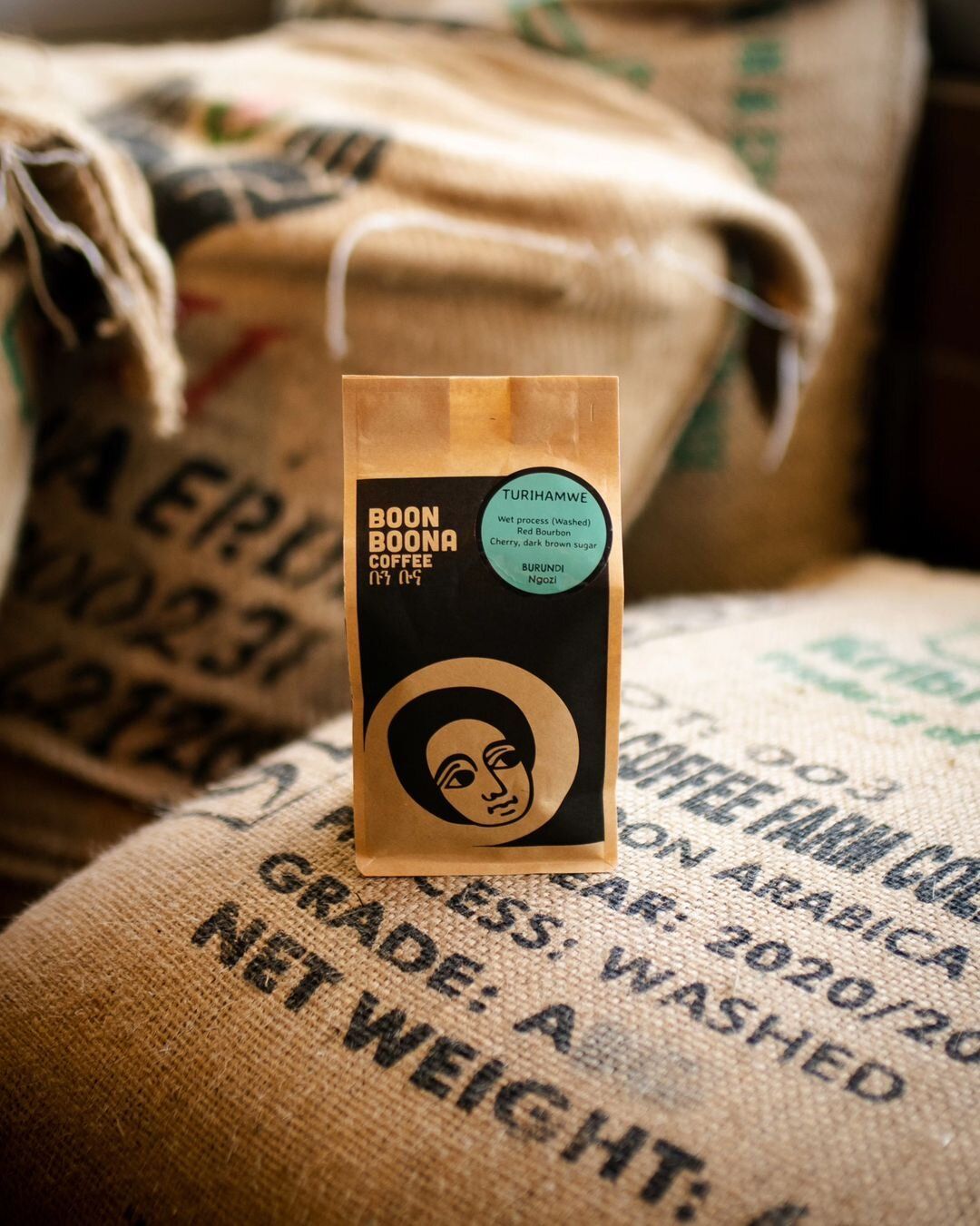 Boon Boona Coffee is an African coffee roaster based in Renton, Washington, sourcing beans from small-scale farms in Ethiopia, Kenya, Tanzania, Burundi, and the Democratic Republic of the Congo. It was founded by Eritrean Efrem Fesaha who started Boon Boona as a response to a lack of community feel in US coffee shops.
Their coffee is known for its fruity, bright acidity, and complex flavours. Popular coffees include Yirgacheffe, Sidamo, Burundi, and D.R. Congo. Boon Boona offers a variety of coffee drinks, pastries, and snacks. They can be found at their Renton cafe or two Seattle locations. Customers praise the coffee's unique taste, friendly staff, and cosy atmosphere.
If you're ever in Seattle you have to visit their original shop in Renton, just outside the city. It's a real community space, they often host events. ~ Jodie.
Elevate Through Coffee - Rwanda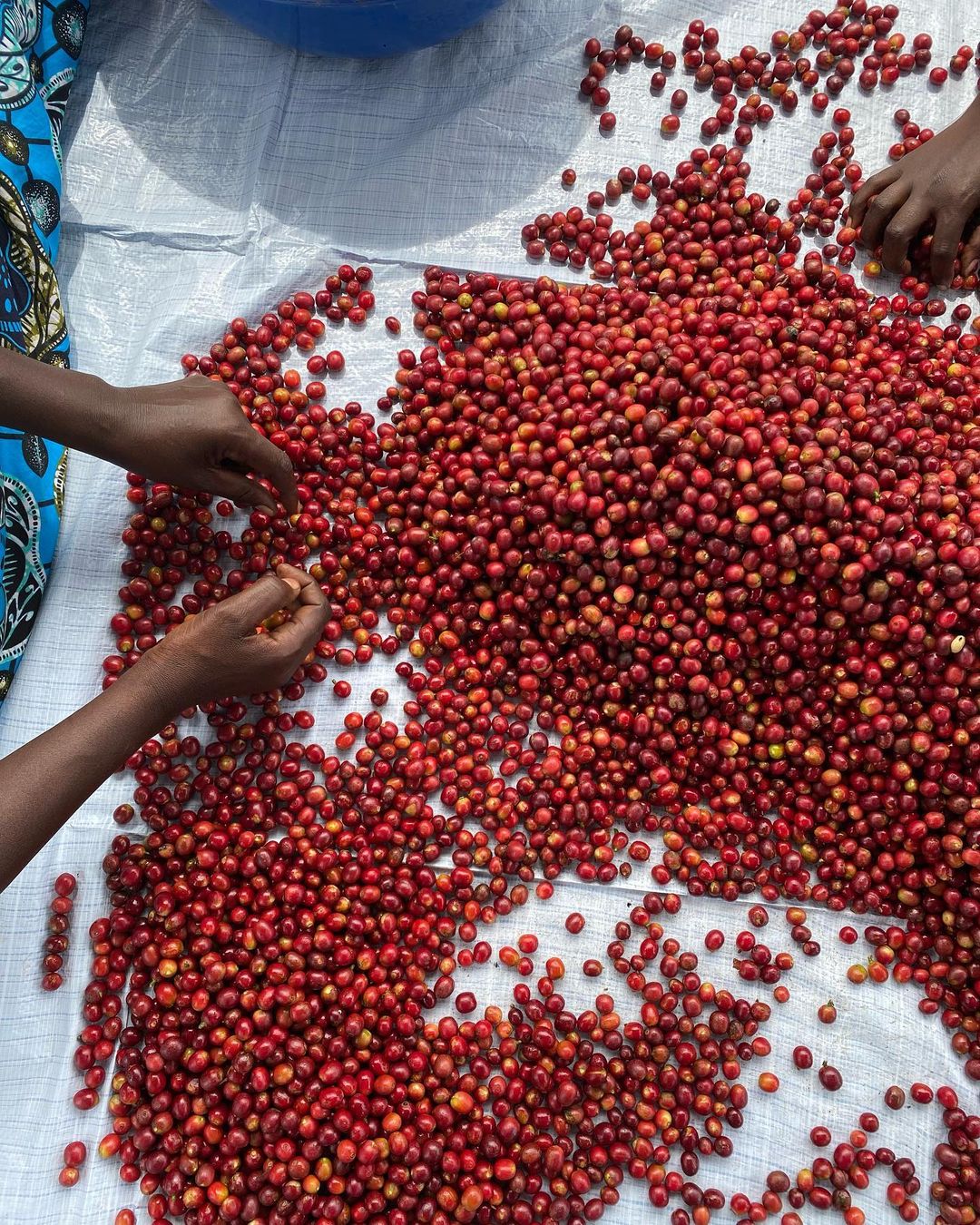 The Elevate Through Coffee Initiative (ETCI) is a Rwandan initiative that connects people to coffee culture and provides market access to Rwandan coffee farmers. Founded by Smayah Uwajeneza, the initiative sources coffee from the Kivu region of Rwanda, known for high-quality coffee. ETCI works with farmers to implement sustainable practices, such as shade-grown coffee farming and water conservation. The coffee is known for its fruity and floral flavours, with notes of blueberry, raspberry, and rose. The initiative provides training and education to farmers, connects them with fair-paying buyers, invests in infrastructure, and promotes Rwandan coffee globally. The coffee is highly recommended for its delicious and ethically sourced taste.
An incredible coffee brand, founder Smayah is a lawyer, Q Grader and Aeropress champion from Rwanda and all-around offers speciality inspiring woman! ~ Jodie.
Bra Fie - Ghana/ London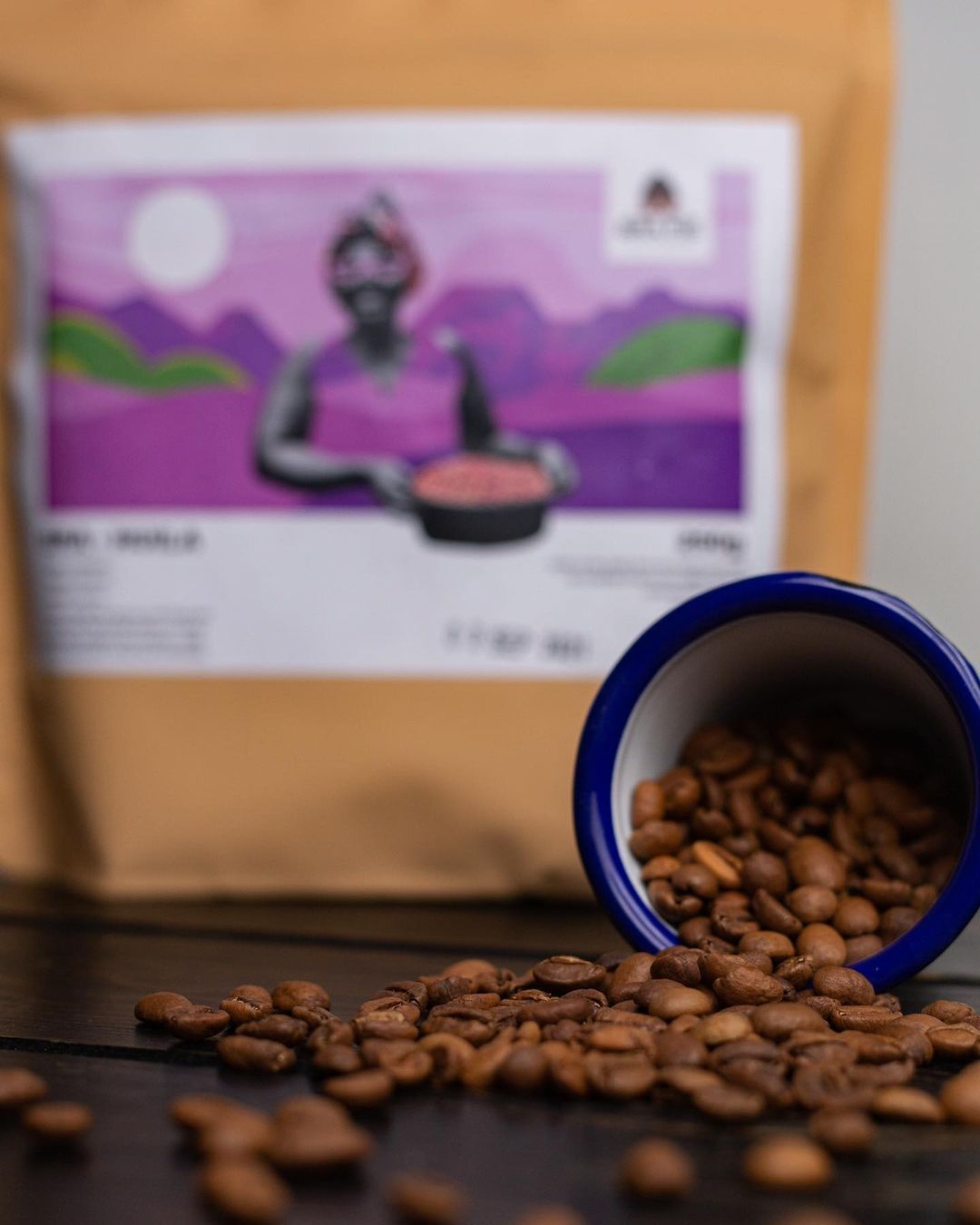 Bra Fie coffee brand was founded by Eugene Hammond. The brand sources coffee beans from small-scale farmers in Ghana and roasts them in London. Bra Fie coffee is known for its smooth, chocolatey flavour with hints of citrus. The brand offers a variety of coffee beans, including espresso, filter, and decaf. Customers have described the taste as pronounced, not too sweet, and with citrus notes. Bra Fie is a delicious and ethically sourced coffee that can be ordered directly from the brand's website or found at select retailers in Ghana and London.
Bra Fie means "come home" in Twi. I've recently come onboard with Bra Fie as creative director and I'm so excited about what we are going to create here! Our focus going forward is going to be connecting coffee, culture and community, providing the diaspora more access points to coffee, watch this space! ~ Jodie.
Addis in Brixton - London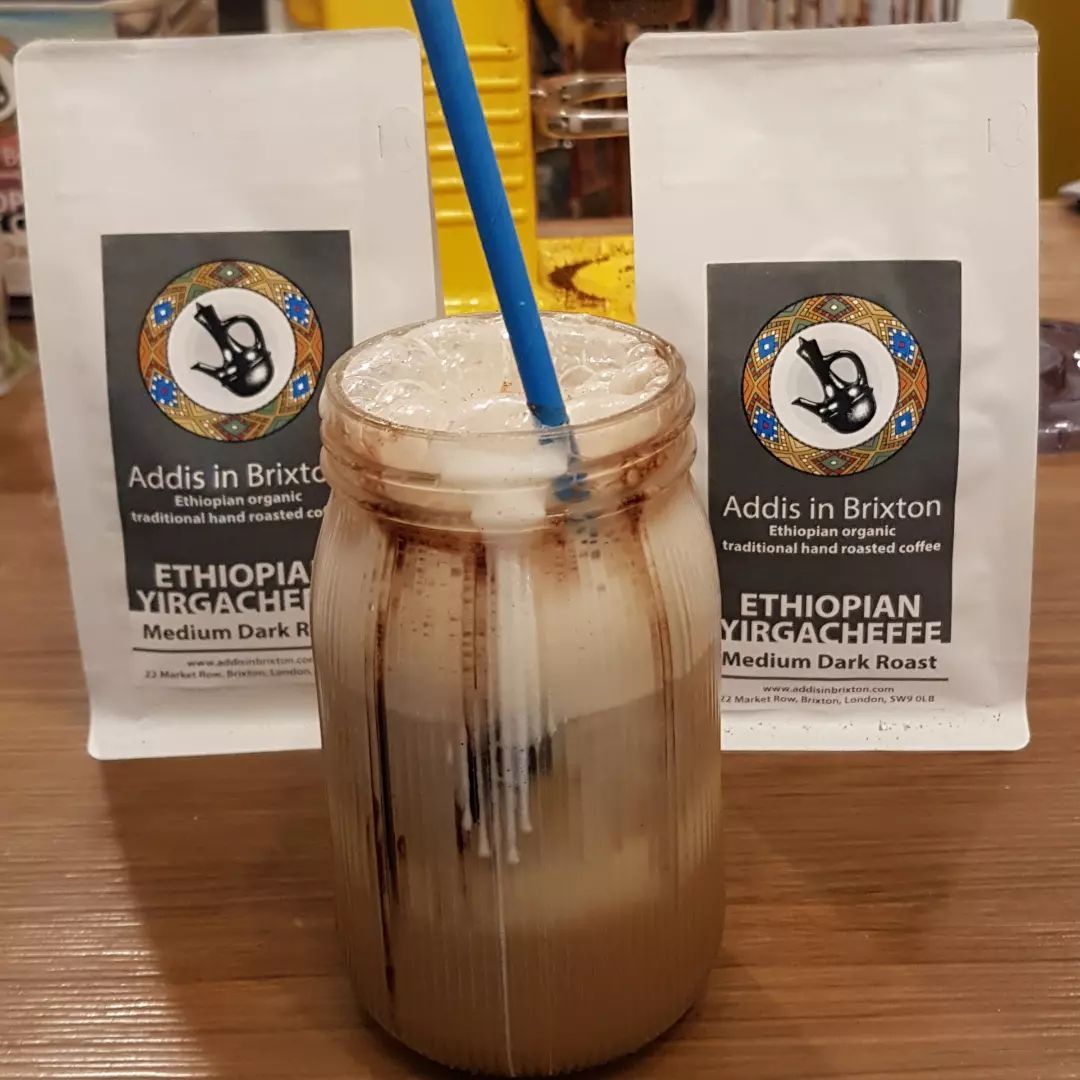 Addis in Brixton, the coffee shop in London's Brixton Market, was founded by Yanet and Greg, who specialize in Ethiopian hand-roasted coffee. The shop sources, roasts, and serves high-grade organic coffee in an authentic setting, reflecting Ethiopian culture and original art. The coffee is highly acclaimed, with complex, rich flavours and smooth, well-balanced texture. In addition to coffee, Addis in Brixton offers Ethiopian vegan food made with fresh, seasonal ingredients inspired by traditional Ethiopian cuisine.
Addis in Brixton may be the only place in London where you can experience a traditional Ethiopian coffee ceremony! bring a group of friends or family and spend some time connecting over coffee! ~ Jodie.
Coffee and Fripes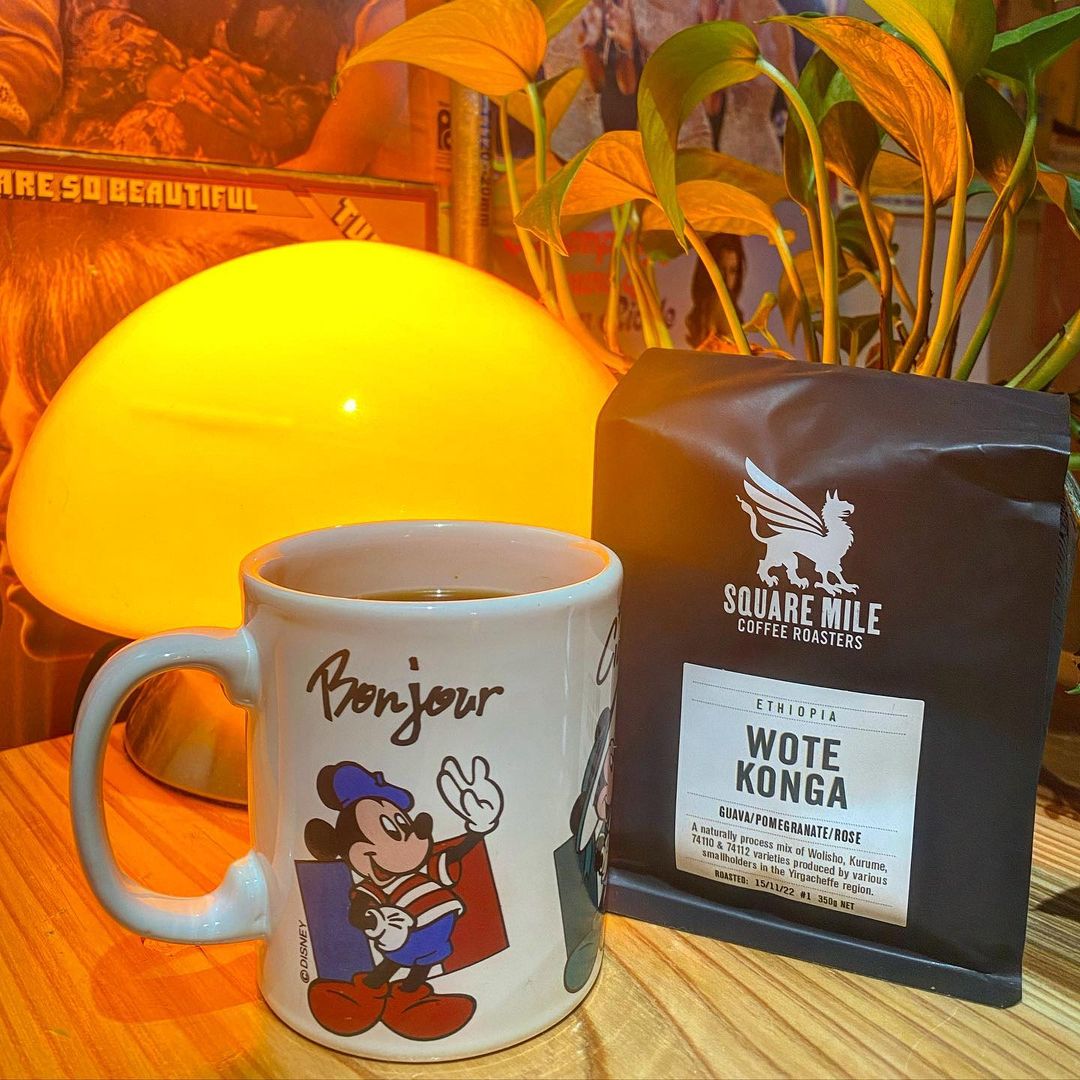 Coffee and Fripes was founded in 2021 by Aïssatou who is of Guinean Descent. It is a London-based coffee shop and vintage clothing store that offers specialty coffee sourced from ethical farms and roasted by Square Mile Coffee Roasters. The shop also offers vegan food, pastries, and cakes made with fresh, seasonal ingredients. The vintage clothing is curated by Hitchatou and her team, sourced from around the world and priced affordably. The shop is known for its coffee quality, with reviews praising its balance, flavour, and friendly staff. The shop is located in Roman Road, London.
Coffee and Fripes blends two of my favourite things, Coffee and Vintage Clothing, an all-around dope space. ~ Jodie.