A A K S was founded by Akosua Afriyie-Kumi with the goal of introducing the world to her favourite weaving techniques by the women of Ghana, increasing awareness around ethical production processes and encouraging sustainable consumption in the fashion world.
Handcrafted in Ghana, A A K S creates handbags in styles that seeks to conserve the provenance of weaving as an art form, accentuated with the bright exuberant colours of Africa.
The essence of A A K S design philosophy is enshrined in these three main pillars: designs that embodies a critical attention to craftsmanship, ethical and sustainable values in the production cycle, and a high-quality finished product which will never be mass produced.
Each collection silhouette is unique and tells a different story through detail, colour and shape. Akosua is connected to every stage of the design and production process to oversee and ensure that the end result is imbued with the spirit and soul worthy of the A A K S stamp.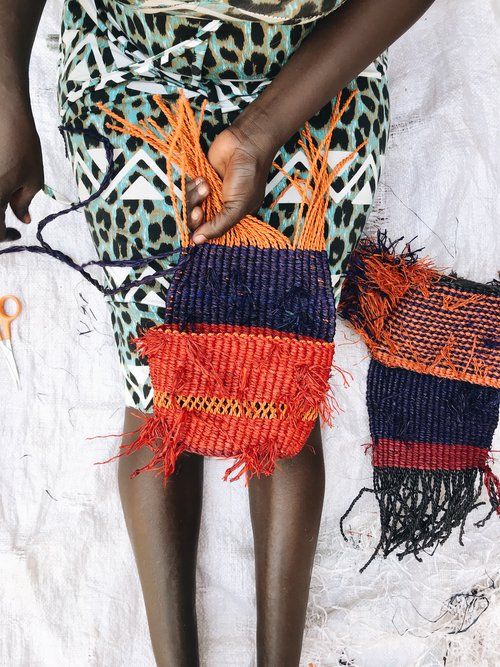 STORIES
In a small tranquil village in Ghana, hamlets scatter over the savannah as far as your eyes can see. A group of local artisan weavers sit under a huge baobab tree laughing away, on close inspection you see piles of colourful raffia and in between the noise of chatter and laughter these women are hard at work. Their hands move so deftly and proficiently interlacing threads of raffia with such speed its mesmerising to the eye. On closer inspection you realise they are tending to a craft with an innate knowledge that has been handed down by generations before them.
This craft is the art of weaving. Using skills and techniques that are unique to this part of Ghana, is the foundation of our brand. This is where A A K S handbag are made. The bags are woven exclusively with raffia, lined with a linen or cotton fabric and finished off with leather. It takes approximately ten days to complete a handbag. This attests to our unwavering dedication to a high-quality handmade bag using traditional methods but with a modern style and aesthetic.
Made by hand each bag bears the finger prints of the person who fashioned it and we add a signature tag to prove authenticity. We strive for beauty and individuality in each product and natural variations in texture and colour forms part of our designs.
While constantly experimenting with new materials all of our handbags are made using ecologically harvested raffia from family farmers in Ghana. We utilise as much of every raffia as possible and reserve scraps for smaller bags, pompoms and other accessories. The use of natural fibres and emphasis on handcraft means each bag is a one-off. A sophisticated dyeing process is formulated in house to create exclusive seasonal colours.
FOUNDER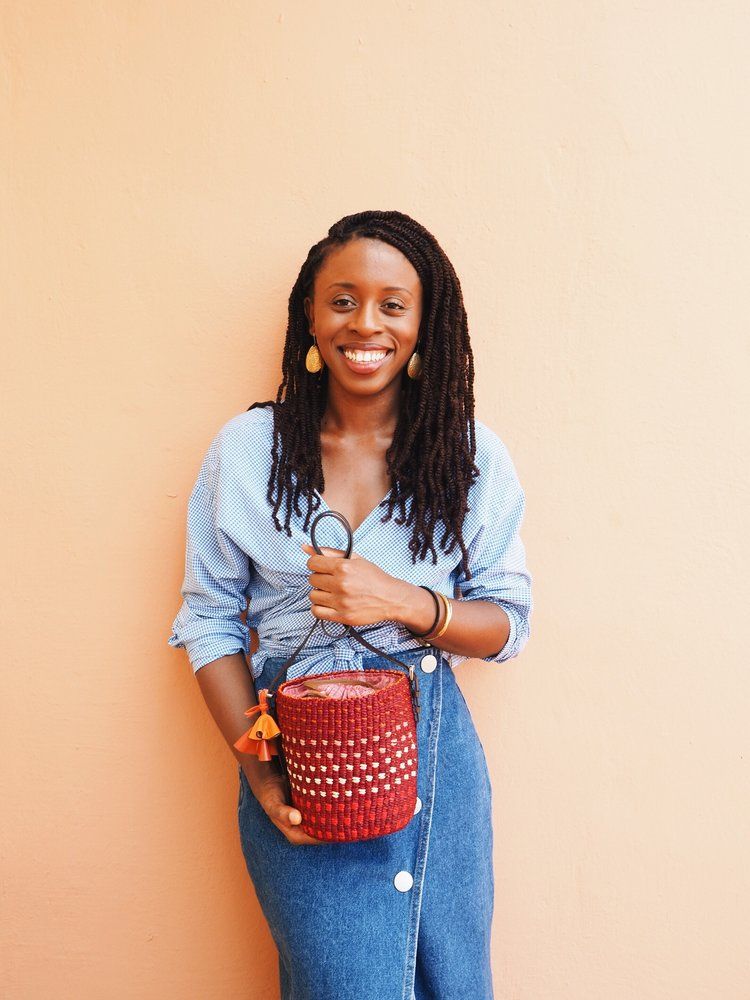 Akosua graduated from Kingston University London with a BA (Hons) in Fashion and amassed an impressive resume of fashion industry experience whilst in London.  From designer to co-owner of a fashion brand and now creative director of her own brand A A K S, has resulted in a broad industry knowledge from multiple perspectives.
Born in Ghana and still her primary home, Akosua finds herself traveling mostly throughout Africa and Europe every few months to work with local artisans, experience diverse cultures and discover new inspirations for her brand.
Since launching in 2014, A A K S has been shortlisted as an emerging designer from Africa by Vogue Italia, featured by Vogue, Elle Decoration, CNN, Forbes Woman Africa, Guardian UK, The Times UK and most recently the Economist as one of the African brands advocating for sustainability in the fashion industry.
Akosua now stocks her woven bag collections in over 60 stores worldwide including Anthropologie, Bloomingdales, J. Crew, John Lewis, Nordstorm and United Arrows.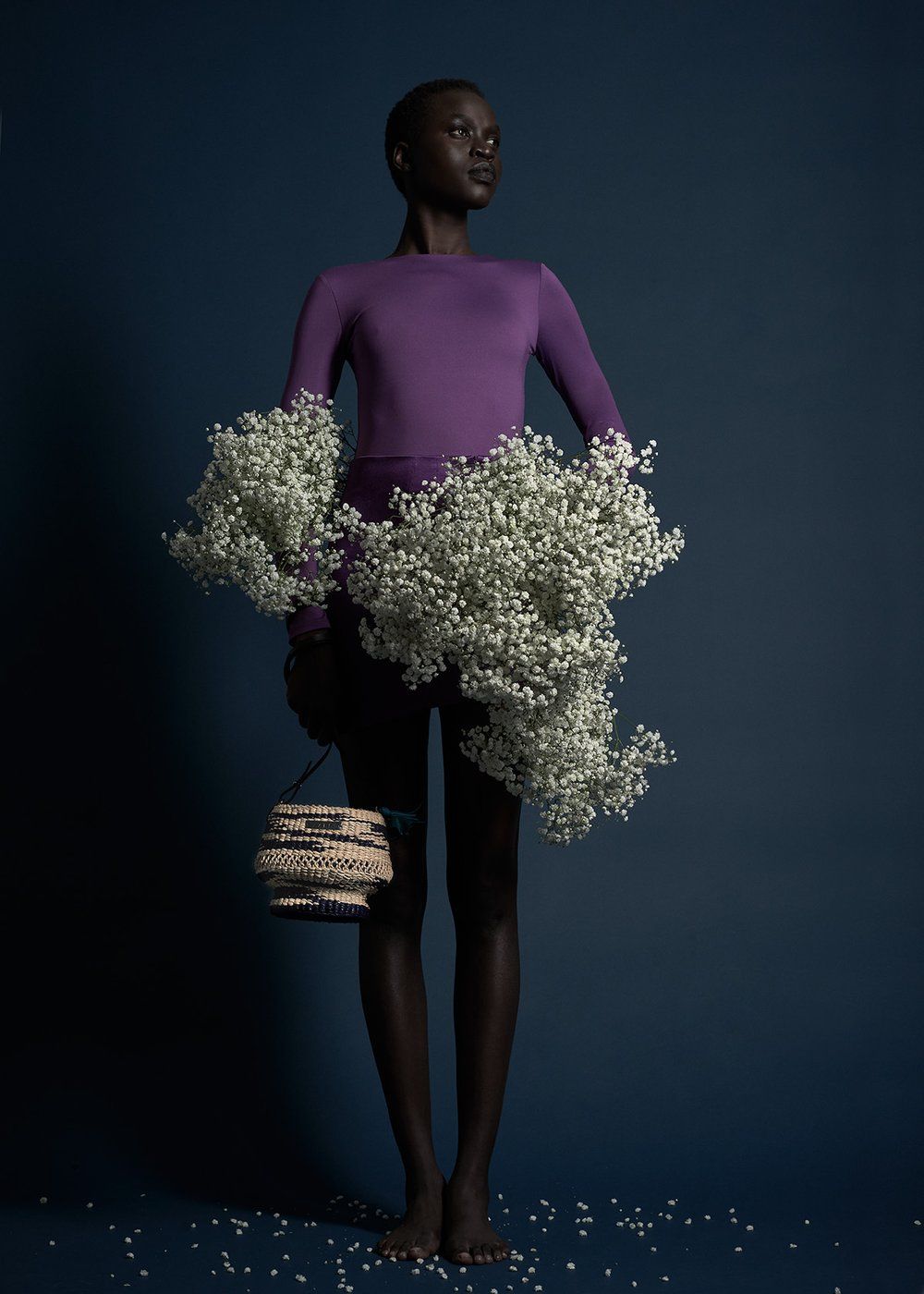 LINKS