Stork has landed in the heart of Mayfair serving innovative and erudite Modern Pan-African cuisine. Celebrated for sophisticated flavours and artistic visuals, every course is a culturally rich experience.
Inspired by the 2,000-mile journey of the Stork, our dynamic cuisine showcases the migration of African culinary inspiration to nearly every continent in the world.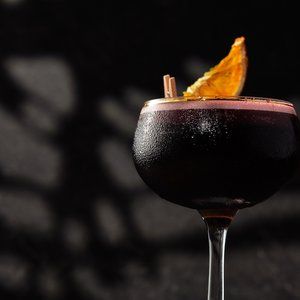 Stork Mayfair is London's leading Pan-African restaurant. Conveniently positioned between Green Park and Regent Street. Our fine dining establishment is set in a cultural hub, neighbouring some of the capital's most iconic art galleries.
We serve a decadent seasonal menu, paired with inspired wine, beers and cocktails. Flavours, depth, texture, and artistic visuals are central to our offering. Our cuisine is designed to showcase the culinary richness of the African continent and the Diaspora.
Our revolving art exhibitions are curated by BetterShared and take diners on a powerful aesthetic journey.
A Migration of Flavour and Culture
Stork's talented Chef Team boasts a world-class repertoire.  The team have successfully reimagined Pan-African cuisine.  Inspired by colours, flavours, and aromas, the kitchen are uniting culinary influences from across the African continent and the Diaspora. Their creative vision is bold, unchartered, and aspirational.
Situated on Mayfair's historic Cork Street, Stork's 100 seats unfold across two afro-chic floors. Interiors have been curated meaningfully, showcasing artwork from some of Africa's most inspiring new artists. Whether hosting friends, business associates or an intimate dinner, diners will experience Stork's full expression of Modern Pan-African art and our commitment to design creativity.
From its decadent dishes and inspired cocktails to its championing of upcoming artists, Stork is more than a fine dining restaurant. It's a celebration of all things Pan-Africa."
Stork is more than a fine dining restaurant; it's a space where food, history, and art collide. Our talented Chef team have trained with some of the world's leading gastronomic masters — with notable pupillage under Michelin star chefs Pierre Gagnaire and Raymond Blanc. The creative flair in the kitchen is truly breath-taking.
At Stork, we aim to capture the richness of Africa's culinary and creative offerings through fabulous food and art. We have nurtured a progressive culture within the restaurant, consistently reimagining what it means to be a Modern Pan-African restaurant today. The essence of our restaurant is expressed through 3 key areas: Aspiration, Authenticity, Artistry. Honest flavours, dept, texture, and high-art aesthetics are core to our ability to achieve in any of these 3 key areas.
Stork is an ambient venue for intimate dinners, catch-ups with friends, corporate events, and family socials. Its prime location in Mayfair's art district makes dining there truly special. Here's to rich culture, high-art, ritzy cocktails, and exceptional food. "Jije to dara" — that means "good eating" in Yoruba.
LINKS